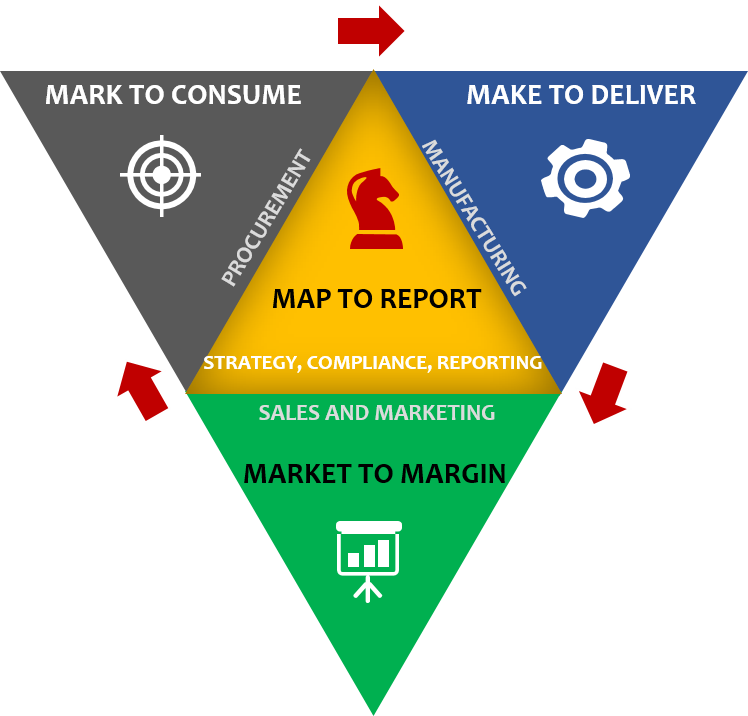 Digital Strategy: Realigning Business Process Areas – a point of view
In early 1990s Hammer and Champyin their book Reengineering the Corporation: A Manifesto for Business Revolution, mentioned Business Process as: "a collection of activities that takes one or more kinds of input and creates an output that is of value to the customer." Works of Peter Drucker and Davenport and others ushered a new way in which interplays between different business units and business functions were viewed, which eventually led to the Business Process Management Systems (BPMS) for information technology, with large ERP systems like SAP, Oracle etc. coming into play.
IT Service Providers had over the years have aligned their service delivery organization and talents to the business processes process like Procure-To-Pay (P2P), Order-To-Cash (O2C) and so on. However, business as it is shaping up in Digital age, we find the boundaries of knowledge and activity are being expanded and old methods are replaced with new ways of executing.
So, the question being asked – is there a need to redefine and remap the business process clustering for the digital age?
The answer is in affirmative, since the face of business is changing drastically, and the digital economy is all about hyper-connection, creating an ecosystem, deep partnership between organizations, co-creation and co-operation, crowdsourcing, mobility, IoT and the rest of it.
The basic interaction within an organization and externally with customers and partners have to be factored in. When IT Service Providers are developing their talent base and innovation activities they would be better served if they can identify and align to the changing business needs of their customers and optimize their delivery engines leveraging the changing dynamics of the digital age.
Here we are putting forward a recommendation to simplify, realign, re-engineer and redefine the business processes into four major clusters – the 4M or stages – Mark, Make, Market, and Map. This will help in factoring in the inter-dependencies between the processes and channel innovation considering the connectedness of the activities, and improved optimization by harvesting knowledge and skills, and talking to customers with a fresh perspective. Business will benefit from this re-engineering with improved organizational effectiveness and increased productivity.
The four Process Areas are: Mark-To-Consume (Input source identification, access to the source, and feeding into the production process), Make-To-Deliver(transforming input to output maintaining desired quality, logistics to make the produced goods or services ready and accessible for the market), Market-To-Margin (Sales through multiple channels, distribution network, marketing, event management), Map-To-Report(Strategic Roadmap creation, Centralized planning from production planning to financial planning, compliance, reporting).
Mark-To-Consume (M2C): The process area of M2C starts with identifying the input sources required to develop the final product. Land, labor, capital, a technology that the organization intends to procure through various channels either directly or through partnership. Traditional processes are Material Management / Purchasing, Warehouse Management, Supplier Relationship Management, Loaner (products taken on loan to build), Asset Acquisition, Contracting, Inter-company transfers, Consumable Purchase, Inventory Management, Inbound e-commerce, inbound logistics, crowdsourcing, leading up to Accounts Payable together forms M2C.
We propose to expand the knowledge base of people end to end from how to identify the input source (Mark) and how those are fed into the production process (Consume), instead of individual process areas Material Management, Procure-To-Pay, Shopping Cart and Catalogs, Vendor Return, Vendor Development, Vendor Quotation, Spend Performance Management and so on.
Make-To-Deliver (M2D): The process area of M2D encompasses the production process leading up to outbound logistics and packaging to the point of sale. Processes mapped to M2D are Production Planning, Quality Management, Plant Maintenance, Outbound Logistic, Transportation Management, Sub-contracting, Batch Management, Warehouse Management including tracking and RFID and so on.
Market-To-Margin (M2M): The process area of M2M includes all activities from Market identification to executing the sale to the customer and revenue and margin recognition thereof. It includes Marketing, Sales and after-sales service, returns management, Customer order and contract management, Billing, Pricing, Variant Configuration, Event Management, Market Identification, Go-To-Market Strategy, Channels and Partners, Account Receivables, Contract Pricing and so on.
Map-To-Report (M2R): M2R process area binds all the other three Service line from Strategy, Planning Optimization, Reporting, and Compliance point of view. The process areas integrated in to M2R are – Demand Planning, Supply Planning, Production Planning and Scheduling, Supplier Network Collaboration, Plan to Stock, Material availability check, Bill-of-Material creation, Product Costing, Variance Analysis, Statistical Forecasting of Demand and Supply, Distribution Network / Channel Planning, Enterprise Asset Management, Enterprise Risk, Compliance and Governance, Human Capital / Talent Management – Hiring and Development, Finance Reporting and Controlling, Treasury Management, Asset Accounting, Payroll, Global Trade Management, Travel Management, Master Data Management for Vendor, Supplier and Material, Project Systems, Governance and Stakeholder Reporting and so on.